26 mars 2010
5
26
/

03
/

mars
/

2010
15:17
414. GENTLE GIANT Three friends (1972) > 4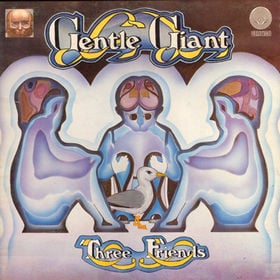 1. Prologue (6:12) > 4
2. Schooldays (7:33) > 4
3. Working All Day (5:07) > 4
4. Peel The Paint (7:25) > 4
5. Mister Class And Quality? (5:51) > 4
6. Three Friends (3:00) > 4

Après l'excellent Acquiring the taste, le gentil géant semble vouloir se faire plus accessible pour son premier album à paraître aux Etats Unis. Si la musique est plus directe et moins richement orchestrée, tous les titres de l'album sont cependant très recommandables. Après un Prologue très accessible, Schooldays est le morceau le plus progressif avec son superbe duo vibraphone/guitare, ses jeux vocaux, un très beau break au piano et un final jazzy au vibraphone.
Les plages suivantes sont plus pêchues et s'approchent souvent du jazz-rock..Working all days et Peel the paint offrent quelques passages qui évoquent Van der Graaf Generator.