20 avril 2010
2
20
/

04
/

avril
/

2010
17:30
429. THE TANGENT Not as good as the book (2006) > 4.11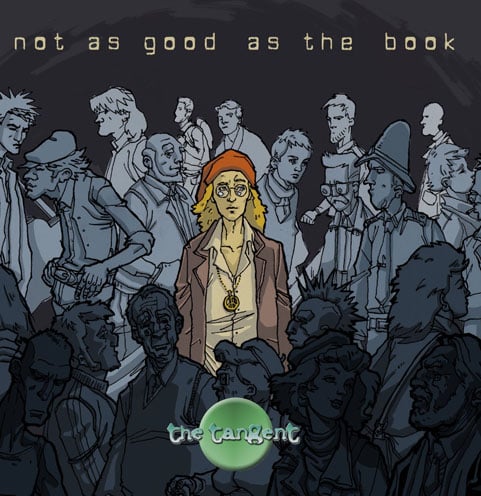 Disc 1: 50:46
1. A Crises In Mid-Life (7:13) > 4
2. Lost In London 25 Years Later (7:33) > 5
3. The Ethernet (10:13) > 3
4. Celebrity Purée (3:43) > 5
5. Not As Good As The Book (8:54) > 5
6. A Sale Of Two Souls (7:16) > 4
7. Bat Out Of Basildon (5:54) > 5

Disc 2: 43:49
1. Four Egos, One War (21:15) > 3
2. The Full Gamut (22:43) > 3
Double-album concept plutôt déséquilibré côté musique.
Le premier CD est assez réjouissant car plus direct et plus pêchu qu'à l'habitude. Après un bon premier titre ( A criises in mid-life) , très classiquement tangentien dans la composition, on retrouve Le titre Canterbury habituel des albums du groupe avec l'excellent Lost in London (dont la 2° partie est un bon jazz-rock). On passe vite sur The ethernet qui manque de personnalité pour finir l'album en beauté avec des titres très accrocheurs :
> Celebrity purée, fusion pêchue où les guitares sont à l'honneur débute par un rif très accrocheur.
> Not as good as the book et sa partie centrale excellente avec des interventions de qualité des guitares (acoustique et électrique)
> A sale of two souls, titre très VDGG assez réussi même si Andy Tillison ne peut rivaliser avec Peter Hammil.
> Bat out of Basildon, bon blues-rock qui bouge sa grand-mère
Le deuxième CD, s'il est sans doute utile au concept, se révèle plutôt indigeste avec 2 longues suites très chantées (hum...) et dont les sentiers sont trop labyrinthiques pour laisser une trace indélébile.