2 janvier 2012
1
02
/

01
/

janvier
/

2012
08:01
688. STEVE HACKETT Please don't touch (1978) > 3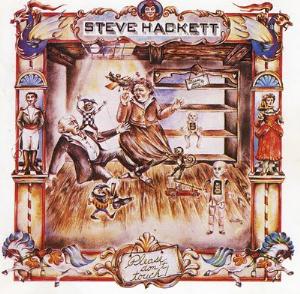 1. Narnia (4:06) > 3
2. Carry On Up the Vicarage (3:11) > 2
3. Racing In A (5:07) > 2
4. Kim (2:14) > 4
5. How Can I? (4:40) > 4
6. Hoping Love Will Last (4:09) > 3
7. Land of a Thousand Autumns (1:57) > 3
8. Please Don't Touch (3:39) > 3
9. The Voice of Necam (3:11) > 3
10. Icarus Ascending (6:21) > 3
Un album tout à fait ordinaire et très dispensable.
Steve Hackett fait appel à de nombreux musiciens pour un album sans personnalité. Quel intérêt de se procurer un album solo de Steve Hackett pour entendre Steve Walsh, Phil Ehart, Richie Havens ou encore Randy Crawford. Certes, l'écoute est sympathique mais on attend autre chose d'un grand guitariste. Il paraît qu'il y a plus de guitares que sur Voyage of the acolyte mais les sons sont si travaillés (voir la liste impressionnante de matériel divers utilisés) que le résultat est contre-productif pour satisfaire un amateur de belles guitares...
Parcourir les sentiers de la discographie de Steve Hackett pour entendre Steve Walsh dans des titres pop (Narmia, Racing in A), de la soul-music avec Randy Crawford (Hoping love will last), une fantaisie burlesque sans intérêt (Carry on up the vicarage) ou une ballade (certes très belle) de Richie Havens (How can I) , c'est assez inutile. Il n'y a guère que le court instrumental Kim, beau duo flûte/guitare qui nous rappelle les bons moments de l'Acolyte ; même les instrumenatux autour de la plage-titre Please don't touch ne sont pas convainquants.