13 juin 2012
3
13
/

06
/

juin
/

2012
21:20
724. SOFT MACHINE Bundles (1975) > 4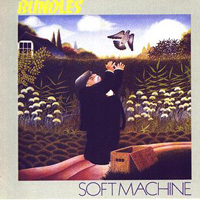 1. Hazard Profile Part 1 (9:18) >4
2. Part 2 (2:21) > 4
3. Part 3 (1:05) > 4
4. Part 4 (0:46) > 4
5. Part 5 (5:29) > 4
6. Gone Sailing (0:59) > 4
7. Bundles (3:14) > 4
8. Land Of The Bag Snake (3:35) > 4
9. The Man Who Waved At Trains (1:50) > 4
10. Peff (1:57) > 4
11. Four Gongs Two Drums (4:09) > 3
12. The Floating World (7:12) > 5
La guitare fait une entrée remarquée avec Allan Holdsworth pour un album orienté jazz-rock et guitare.
On commence fort avec un très bon Hazard Profile Part 1 dans lequel Holdsworth nous gratifie d'un long solo très percutant. Après quelques courtes pièces, la suite termine fort avec le clavier vif et flamboyant de la Part 5.
Retour au calme avec quelques arpèges de guitare (Gone sailing) et on retrouve plusieurs titres de bon jazz-rock avec Bundles, Land of the bag snake et Peff (après une courte pause de jazz ambient pour la plage 9).
L'expérimental Four gongs Two drums est assez anecdotique puis on termine sur l'excellent The floating world qui propose une belle rêverie à la flûte sur un rythme hypnotique.