12 avril 2011
2
12
/

04
/

avril
/

2011
17:02
574. JEAN-LUC PONTY Upon the wings of music (1975) > 5 ♥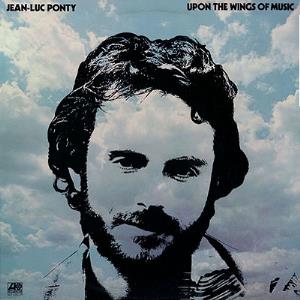 1. Upon the Wings of Music (5:26) > 5
2. Question With No Answer (3:29) > 5
3. Now I Know (4:27) > 5
4. Polyfolk Dance (5:12) > 5
5. Waving Memories (5:43) > 5
6. Echoes of the Future (3:09) > 5
7. Bowing Bowing (4:53) > 5
8. Fight for Life (4:34) > 5
Les premiers albums de JL Ponty ont, pour la plupart, été des albums de jazz réalisés en collaboration avec de grands musiciens (Stéphane Grappelli, Zappa, George Duke, Daniel Humair,..)

Upon the wings of music est le premier véritable album solo en tant que leader et le premier d'un série de grands albums très personnels parus dans la deuxième moitié des 70's. C'est un album très réussi du meilleur jazz-rock (Upon the wings of music, Polyfolk dance, Waving memories,...) avec un bon résultat de groupe (contrairement à certains opus précédents où la démonstration prime) soutenu par le formidable groove funky d'une excellente section rythmique qui est une réponse de bon aloi à la virtuosité de JLP.
Quelques titres sont différents :
- Dans Question with no answer, JL Ponty montre sa formation classique
- Dans la ballade Now I know, on retrouve le jeu de Ponty qui ressemble au saxophone ou à la clarinette
- Très différent aussi et très réussi, Echoes of the future, space entre Pink Floyd (si si) et Ozric Tentacles
Notons enfin une version courte de Bowing Bowing qui figurait sur Jazz violin summit et l'étonnant début de Fight for Life où l'on croirait entendre ZZTop.
Progechoes a eu beaucoup de plaisir à écouter cet album très vif.