11 décembre 2010
6
11
/

12
/

décembre
/

2010
15:23
520. HYPNOS 69 The eclectic measure (2007) > ♥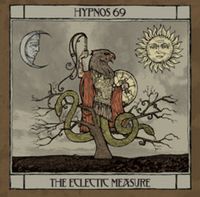 1. I and You and Me (I) (1:26) > 5
2. The Eclectic Measure (6:56) > 5
3. Forgotten Souls (3:45) > 5
4. My Ambiguity of Reality (1:55) > 5
5. The Antagonist (3:56) > 5
6. Halfway to the Stars (3:38) > 5
7. I and You and Me (II) (6:25) > 5
8. Ominous (but fooled before) (5:41) > 5
9. The Point of no return (7:42) > 5
10. Deus Ex Machina (6:57) > 5
NOSTALGIE MELANCOLIE MELODIE
Superbe album du groupe belge qui atteint ici son apogée dans sa promotion nostalgique des sons des 60's et 70's.
La mélodie est à l'honneur dans toutes les plages et si le groupe délaisse le stoner des débuts, il place néanmoins judicieusement deux titres plus rock qui équilibrent l'album : The antagonist qui oeuvre du côté de VDGG, crimson ou Hawkwind et Ominous dont les "citations" crimsoniennes sont évidentes. Le côté floydien est toujours présent notamment sur la plage titre, The eclectic measure. Les mélodies superbissimes sont légion : Forgotten souls, ballade mélancolique aux citations génésiennes, My ambiguity of reality, petit bonheur serein tout droit sorti de chez Amélie Poulain, Halfway to the stars, très jolie pop-song, I and you and me superbe folk song que n'aurait pas renié Neil Young (très beau chant, sax velouté, guitare et basse extra...) et le très mélancolique Deus ex machina.
Cet album est une pépite !! Qu'on se le dise !!