1 avril 2010
4
01
/

04
/

avril
/

2010
17:13
420. GENTLE GIANT The missing piece (1977) > 2.44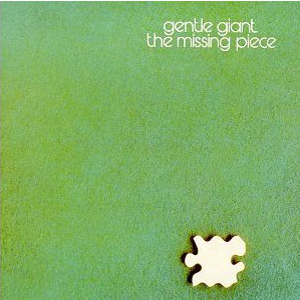 1. Two Weeks In Spain (3:00) > 2
2. I'm Turning Around (3:54) > 2
3. Betcha Thought We Couldn't Do It (2:20) > 2
4. Who Do You Think You Are? (3:33) > 2
5. Mountain Time (3:19) > 2
6. As Old As You're Young (4:19) > 3
7. Memories Of Old Days (7:15) > 3
8. Winning (4:12) > 3
9. For Nobody (4:00)> 3
Ray Shulman, le bassiste :
"There was a degree of pressure to make a more commercial album, and to be honest, I can't remember whether it was self-generated or from the outside"
Bon.... Donc on a un album de pop très quelconque et qui, de plus, n'est même pas commercial.
Le début de l'album est particulièrement faible avec de la pop funky (Two weeks in Spain, Mountain time), une espèce de mauvais Genesis avec un Phil Collins en petite forme (I'm turning around) ou du rock and roll que n'importe quel groupe de bal aurait pu jouer et qui a pour seul mérite la franchise du titre (Betcha thought we couldn't do it).
On retrouve un peu le gentil géant dans la deuxième partie de l'album mais il n'y a pas de quoi grimper aux rideaux.