3 octobre 2011
1
03
/

10
/

octobre
/

2011
16:01
654. ELP same (1970) > 3.83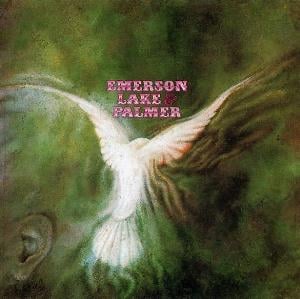 1. The Barbarian (4:33) > 4
2. Take A Pebble (12:34) > 4
3. Knife-Edge (5:08) > 4
4. The Three Fates (7:45) > 3
- a. Clotho (Royal Festival Hall Organ)
- b. Lachesis (Piano Solo)
- c. Atropos (Piano Trio)
5. Tank (6:52) > 4
6. Lucky Man (4:36) > 4
Précisons qu'ELP fait partie des groupes qui n'ont pas attiré Progechoes dans les 70's...
L'une des caractéristiques du rock progressif est d'intégrer au rock originel des éléments extérieurs pour les assimiler et aboutir à une création originale et faire progresser le genre. ELP a choisi d'utiliser la musique classique par la voie de son célèbre clavier Keith Emerson. Si tous les titres sont intéressants, la fusion classique/rock n'est pas vraiment réussie en ce sens que les passages classisants sont plutôt juxtaposés aux passages plus rock ou ne sont que des exercices de style (comme les 3 parties de The three fates).
The Barbarian (inspiré de Bartok) propose ainsi un superbe passage classisant central (où le batteur est en osmose parfaite avec Keith Emersson) entre deux passages plus rock mais sans amalgame entre le rock et le classique.
Take a pebble pêche également dans la composition en juxtaposant plusieurs séquences sans lien cohérent : une entrée en matière et une conclusion avec le chant superbe de Greg Lake qui nous replonge dans le King Crimson d'Epitaph - un passage classisant au piano - une longue séquence inutile mixée trop bas à la guitare acoustique - un très bon passage jazzy collectif.
Knife-edge est le titre le plus rock alourdi inutilement d'un passage tout à fait superflu à l'orgue
Tank aurait pu être le coup de coeur de l'album avec un excellent début qui évoque Beardfish mais suivi d'un solo de batterie dont on se serait bien passé...
Reste Lucky man qu'il est d'usage de snobber parce qu'écrit à 12 ans par Greg Lake mais c'est une très belle ballade folk qui termine agréablement l'album.