21 décembre 2010
2
21
/

12
/

décembre
/

2010
20:53
525. DJAM KARET Reflections from the firepool (1989) > 3.62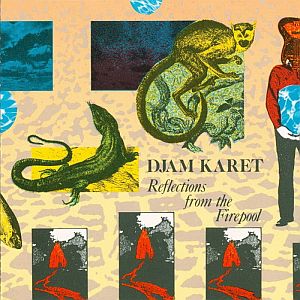 1. The Sky Opens Twice (10:16) >4
2. Fall Of The Monkeywalk (9:16) > 3
3. Run Cerberus Run (6:42) > 3
4. Scenes From The Electric Circus (7:04) > 4
5. Animal Origin (7:15) > 4
6. All Doors Look Alike (7:15) > 4
7. The Red Monk (7:22) > 3
8. Reflections From The Firepool (10:02) > 4
Cet album de Djam Karet ne me semble pas abouti en ce sens qu'il cherche sa voie entre Ozric Tentacles et l'expérimental sans en réussir la fusion et en proposant des titres mal structurés qui ne semblent aller nulle part.
Plusieurs titres comprennent d'ailleurs deux plages dont on ne voit pas bien la liaison.
A l'instar d'Ozric Tentacles, les titres offrent des rythmes répétitifs mais beaucoup moins percutants et qui utilisent beaucoup des percus diverses. Quant aux guitares qui laissent parfois traîner leurs notes de manière plaintive, elles rendent certains titres trop linéaires (Fall of the monkeywalk par exemple).
De bons moments malgré tout mais on reste sur sa faim.