7 juillet 2009
2
07
/

07
/

juillet
/

2009
21:28
172. KANSAS Point of known return (1977) > 5 ♥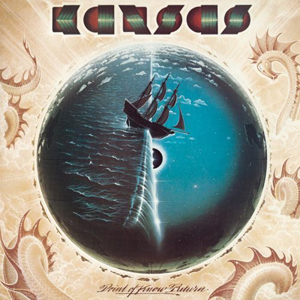 1. Point of know return (3:11)
2. Paradox (3:49)
3. The spider (2:08)
4. Portrait (He knew) (4:32)
5. Closet chronicles (6:30)
6. Lightning hand (4:21)
7. Dust in the wind (3:26)
8. Sparks of the tempest (4:15)
9. Nobody's home (4:37)
10. Hopelessly human (7:10)

Plus accessible que Leftoverture et moins original, Point of known return fera aussi néanmoins un excellent coup de coeur.
Beaucoup de titres courts, très efficaces et retour à un album plus rock, très rythmé.
> Le hard-rock retrouve sa place comme dans Lightning hand et Sparks in the tempest (très Deep purple).
> On retiendra aussi les excellents Paradox et The spider qui vont à 100 à l'heure et où les musiciens montrent leur qualité.
> Point of know return et Portrait sont plus pop-rock mais très efficaces.
> Closet chronicles et Hopeliness human sont plus progressifs
Et puis bien sûr, il y a Dust in the wind qui reste à ce jour ma ballade préférée du prog. Mais l'autre ballade Nobody's home est aussi très réussie.